2013 Holiday Hostess Happy New Year Barbie Doll
#X8282
The soiree begins with Barbie doll dressed in a striking golden metallic dress with a mermaid silhouette. Bright turquoise chiffon trims the sweetheart neckline, peeps from the underskirt, and is fashioned into a soft rosette at the waist. Tall champagne-hued gloves, drop earrings, Happy New Year tiara and two tiny champagne "glasses" are the party-perfect accessories.
Brand new and never removed from a nice box and comes in the Mattel Shipping Box!
Smoke-Free Home!
I will discount shipping if you win more than 1 auction!
(Click on Pictures to enlarge)
---
Shipping:
Click on the "Shipping and Payments" tab (above) for actual shipping prices.
Shipping is Calculated Rate to the 48 contiguous United States. If available, please use the rate calculator for International and non-contiguous U.S. areas. If rates for your area are unavailable, please send us an email or an eBay message to request your rate. International Airmail Post shipments normally take 10 to 20 days for delivery, including shipments to Canada and Mexico. U.S. ground delivery normally takes 3 to 7 days. Priority Mail Normally takes 2 to 4 days for delivery.
The following is the estimated time for delivery after shipment. It does not include non-business days and holidays. It is provided by UPS as an ESTIMATE only and is not guaranteed.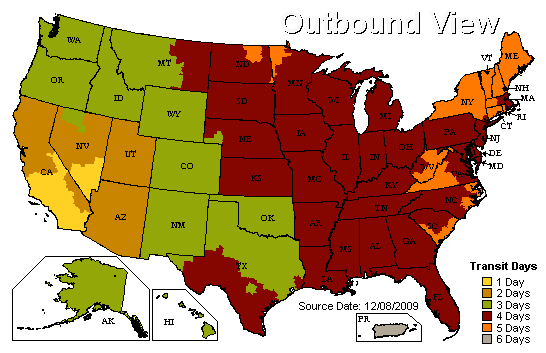 If a Priority Mail Rate is listed, it includes shipping to most United States locations. Non-Postal rates may include shipping to a physical address only (i.e. no PO Box, etc.). If auction does not specify USPS or Priority Mail, and you require a delivery to a PO Box or other "Postal Only" locations, please email us for a quote.
We may change shipping services between UPS and DHL at our discretion.
This item weighs approximately 1 lbs. (1 lbs. = .454 kg) including packaging.
Payment:
To enable quick processing of your item, we prefer PayPal. Other forms of payment may be held 1- 15 business days or more at our discretion. We apologize for this inconvenience, but must have verified funds to keep our costs and our prices down. Please use PayPal with available funds to recieve quick shipping.
Tax:
As required by law, we collect California State Sales Tax to all orders delivered to or received in California, USA. Tax collection and payment for all other States and Countries are the responsibility of the buyer and will not be collected by us.
Other Items:
You may be interested in our other listings on eBay. When possible, we will combine items purchased from us at the same time for discounted shipping. Thank you for bidding on maswo!!!